Food Choices and Portions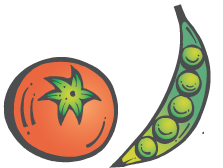 Healthy foods to enjoy during your challenge:
Carbs:
Beans- any type
Bread (whole grain)
Corn
Leeks
Milk
Oatmeal
Palm hearts
Pasta (whole grain)
Peas
Potato (baked or sweet)
Rice (brown or wild)
Taro
Whole grains- any type (amaranth, barley, bran, buckwheat, bulgar, millet, quinoa, rye)
Yams
Dairy:
Cheese (not full-fat) Greek yogurt / high quality yogurt
Egg whites

Animal/plant proteins:
Fish (wild, low mercury is best!)
Lean ground beef
Buffalo
Chicken breast
Duck
Lamb
Pork tenderloin
Steak (lean cuts only)
Turkey breast or ground
Venison
Wild game meats
Shellfish
Seitan
Soy foods
Tempeh
Tofu
Veggie burger
Fats:
avocado
egg yolk (one)
olives
nut butters such as almond, cashew, peanut, sesame
nuts (raw, unsalted)
seeds (dried and unsalted)
oils such as fish oils, flaxseed, nut oils, oil spray, olive oil, udo's oil, vegetable oil
Vegetables:
Alfalfa*
Artichoke
Asparagus*
Bamboo shoot
Green beans*
Beetroot
Broccoli*
Brussel sprouts*
Cabbage*
Carrot
Cauliflower
Celery*
Swiss chard*
Chinese cabbage
Collards*
Cucumber*
Eggplant
Endive*
Fennel*
Gourd
Kale*
Lettuce*
Mushrooms
Okra*
Onion
Peas
Peppers
Pumpkin
Radish
Seaweed/kelp*
Spinach*
Squash
Tomatillo
Turnip
Watercress*
Zucchini*
Fruits:
apple
apricot
banana
berries (blackberries, bluebrerries, rasberries, strawberries, etc)
cherry
clementine
cranberry
currant
date
fig
grape
grapefruit
guava
kiwi
kumquat
lemon
lime
lychee
melon
orange
papaya
passion fruit
peach
pear
pineapple
plantain
plum
pomegranate
rhubarb
tangerine
tomato
watermelon
Sweeteners:
agave nectar
honey
pure maple syrup
Stevia
(NO artificial sweeteners!)

Portion Sizes/How to Create a "Sanctioned Meal"
During the health challenge, we encourage you to enjoy four to five small, healthy, balanced meals every day. To boost your metabolism and keep you feeling fuller longer, we recommend adding a serving of protein with every meal. This should be a lean protein and slightly smaller than the palm of your hand. Try adding a thumb sized portion of fat with every meal as well as a fist sized portion of healthy carbs or fruit that you find from the list above. Two fist sized portions of vegetables should be included in at least three of your meals for optimal health and wellness. The veggies with asterisks next to them may be enjoyed in unlimited amounts. Sweeteners should be used sparingly. For those of you with modified diets, such as vegan, vegetarian, gluten-free or Paleo, please email us at

getfitguilford@gmail.com

to learn of easy and healthy substitutions.
When giving yourself points for the day, feel free to give yourself the full 30 points if you have made healthy choices during meal times. If weight loss is one of your goals, and you do not feel the need to add the 5th meal in for the day, that is fine. If you wanted to swap a fruit or healthy carb for more lean protein or vegetables, that works as well. Simply put, give yourself full credit if your meals are comprised of healthy choices, small in size, evenly spaced out throughout the day to keep you satisfied, and if you stayed away from the foods found on the "foods to avoid" list. If you made poor choices and skipped several meals throughout the day, deduct points accordingly. If you snacked on unhealthy foods, deduct for "snacking" but remember you get one 100 calorie snack per day!
Check out the Support page for sample recipes and helpful tips!!
Design for Get Fit Guilford by Halagan Design Group